Cockroaches are one of the most disgusting insects that can infest our homes. They are also incredibly resilient and amazingly hard to kill.
Cockroaches are capable of transmitting diseases into your home as well as being a potent allergen to many people. Additionally they are voracious breeders and can quickly infest a home if they are allowed to flourish.
Roach Kill, Cockroach Gel Bait is a highly effective method for eradicating cockroaches. Ready to use and simple to apply an application of Roach Kill can stay moist and attractive to Cockroaches for up to 3 months. Roachkill is odourless, mess free and is the same formulation used by professional pest controllers throughout Australia.
Roachkill is available in two convenient size and we post Australia wide.
Roach Kill Single Pack (suitable for flats and apartments) $14 (Includes postage).
Roach Kill Dual Pack (suitable for family homes & commercial premises) $24 (Includes postage).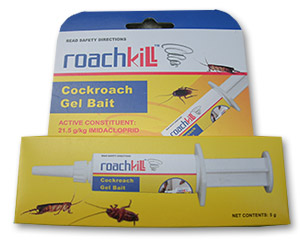 All payments are accepted via our payment partner PayPal. Allow 3-5 working days for delivery.
How To Use Roachkill:
Application is as simple as applying a small (5mm) ball of gel to any surface where Cockroaches are likely to congregate, generally near food sources and moist areas.
Some ideal locations include
Under sinks
Beneath refrigerators
Beneath stoves
Adjacent to bins
Underneath toasters
Do not apply the gel directly on humans, pets, exposed food, food preparation areas or food utensils. Also do not place on surfaces which are regularly washed.
Reapply as necessary. A single application can attract and poison Cockroaches for up to 3 months.